Compsey Creamery is a subsidiary of Mullinahone Co-op, Ireland's oldest farmer owned co-operative. The Co-op is located in a rural part of Co. Tipperary in a strong dairy producing area.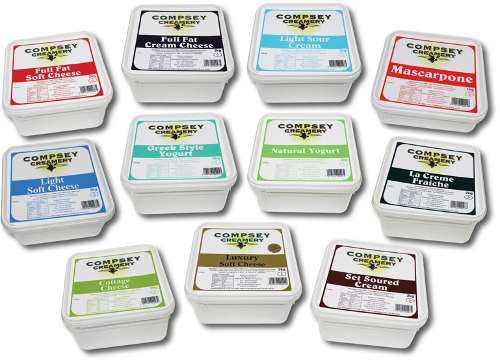 The business commenced in 1985 with the objective of adding value to the milk produced by the co-ops dairy farmers and at the same time create employment in the local village.Today, the business employs 20 full-time staff producing 50 to 60 tonnes per week of a range of dairy products for both foodservice and ingredient customers.
Over the years we have gained significant experience and expertise in the efficient production of our product range with a strong focus on product consistency and quality.All of the raw milk used in our production is sourced from Bord Bia Quality Assured farms and we are also a verified member of Bord Bia's Origin Green Sustainability programme. We have a strong track record in the supply of products to markets outside of Ireland, with the UK being our biggest market and we also have customers in the French and Spanish markets.