A family-run business, Pat Clarke trading as Clark's Fresh Fruit has established a reputation for producing quality fresh fruit over the past 50 years.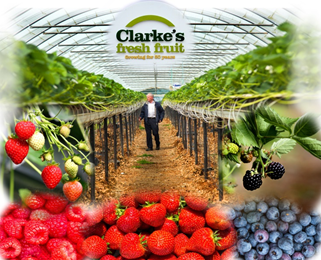 Pat's courage to invest during the '80s enabled the development of innovative systems and cropping techniques.
In 1983, Clarke introduced the El Santa variety to Ireland. The first of those berries were sold in the Dublin Market on 25 July of that year.
With approximately 600 tonnes of fresh fruit produced annually, Clarke's Fresh Fruits now employs in excess of 100 people, all using the most advanced technologies available.